The concealed revealed
Working with the University of Hertfordshire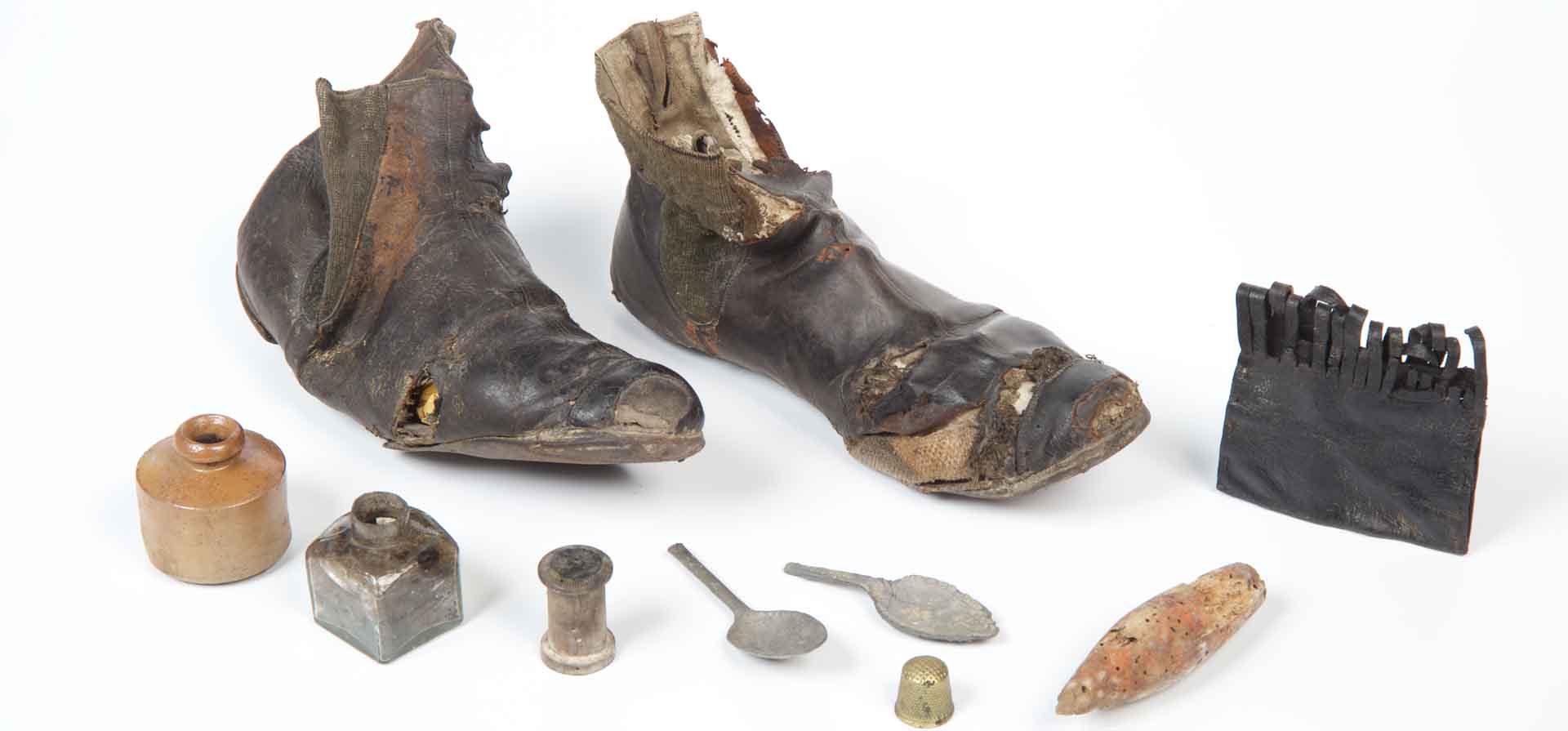 Concealed cache consisting of a pair of women's elastic side boots, about 1860s, a leather purse, two broken teaspoons, a glass bottle, cotton reels and a child's tippet. They were found when repairing a floor in the servants quarters of a house in Brackley, Northamptonshire.
University of Hertfordshire
Since 2016 we have been working in partnership with the University of Hertfordshire, in particular Professor Owen Davies and Dr. Ceri Houlbrook from the School of Humanities, to explore the practice of concealing shoes using both historic and new data collected.
This included developing a template to capture information about finds. Approximately 20 volunteers were given the skills to transfer the concealed shoe index data, from several sources, into a single excel spreadsheet to create a more accessible and complete database. This included:
1,994 separate reports of concealed shoes were transferred to the spreadsheet
3,020 identifiable shoes or pairs of shoes were individually recorded
All handwritten index cards, photographs and correspondence were digitised
The initial findings from this data were presented at the Magic of Shoes symposium which was jointly organised by the Museum and University of Hertfordshire on 23 September 2017.
In September 2019 we held The Folklore of Shoes symposium in collaboration with the University of Hertordshire and the Folklore Society where the latest research on shoes in folkore was presented including topics such as shoe depictions and graffiti on buildings, shoes as relics, shoes in language and proverbs and shoes in folklore stories.
We have also collaborated on a paper:
Revealing the Ritually Concealed: Tracing the concealed shoe from its moment of discovery. Journal of Material Religion.The Journal of Objects, Art and Belief. Published in 2018
Our latest collaboration has been to produce several short films exploring the practice of concealeing shoes and what you should do if you find one.