Lace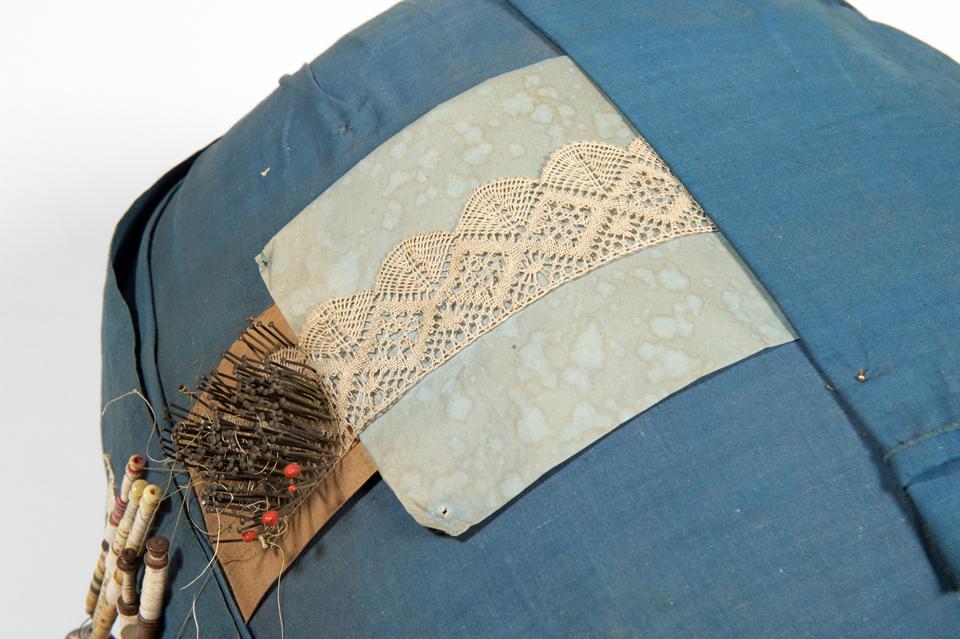 From the 1500s to the 1800s lacemaking became a widespread cottage industry in Northamptonshire, Bedfordshire and Buckinghamshire, after being introduced by European migrants fleeing persecution.
They settled in the region. Our lace collection derives from the three counties, revealing the different types of lace and how it was made.
Key objects from the collection
Buckingham point lace
Samples and items made from Buckingham point lace make up a significant part of the museum's lace collection. Buckinghamshire point lace was made throughout the 1700s and 1800s until the decline of the industry. It is a delicate lace with naturalistic floral motifs outlined in a thicker 'gimp' thread for greater definition against the net background. In Northamptonshire, Buckinghamshire point lace was used to edge undergarments or baby clothes, particularly christening gowns and was known locally as 'baby lace'. More generally it was used for collars, cuffs, bonnet veils, with edgings in a variety of widths.
The Paisley Pear
The Paisley Pear is an important example of Buckingham point lace made within Northamptonshire. It was made by Betsy Gibbings outside her cottage in Pudding Bag Lane, Paulerspury around 1901. Coming in at length of 174cm it is decorated in a repetitive pattern of a paisley shaped head filled with honeycomb point stitching.
Bedfordshire lace
The collection also includes a large number of samples and items made from Bedfordshire lace. Bedfordshire lace became popular in the 1850s at the time of decline in the hand-made lace industry. It was quicker to make than the Buckinghamshire point lace as its features were joined with leaves or bars, rather than a net background. Its bold designs suited the fashions of the day. Typically collars and cuffs were made in Bedfordshire lace as well as wide flounces for the bottom of crinoline dresses and handkerchief edgings.
Lacemaking equipment
The lace collection comprises of many tools and equipment that were used to make lace within the region. Bobbin lace was produced by using bobbins to weave linen or cotton thread around pins laid out in a pattern, attached to a pillow stuffed with straw. Items within the collection include bobbins, pins, patterns, prickings, pillows and pillow stands used and made within Northampton and the surrounding villages.
Where to view the lace collection
There is a small display of lace and lacemaking as part of the story of Northampton in the History of Northampton Gallery 2.
History of Northampton Gallery 2
Our online resources include lace. Listen to Barbara Potter talking about lacemaking in the Midlands.
Research or enquire about the lace collection
We welcome access to the collection through research visits, viewings and correspondence.
Research or enquire about the collection