Costume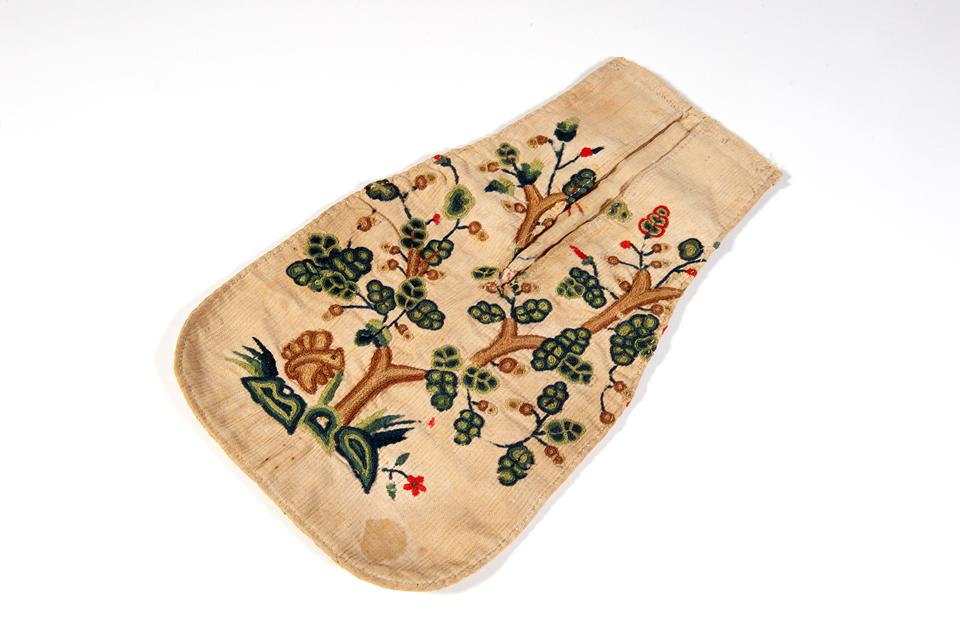 The costume collection includes garments and accessories associated with male, female and children's dress including both day and night wear.
Much of the collection is associated with Northampton people, companies and organisations, while the remainder of the objects have been collected as examples of styles and fashions. The objects within the collection date from 1560 until the present day.
The collection is open to donations. Our collecting is governed by a policy, which helps to ensure that the collection is relevant to visitors.
Daywear
The majority of the collection is made up of all kinds of daywear. Women's costume from 1800-1970 forms a significant area, reflecting the interest of past curators and donors. Key items include a pocket thought to be embroidered by Mary Queen of Scots, a suit worn by Charles Amber MP, who was an adviser to George III, and a locally-made dress inspired by Princess Diana.
Uniforms
Uniforms are widely represented within the collection and include school uniforms and civic uniforms, for example police, fire service and organisations such as St John Ambulance. Local military uniforms include Second World War Land Army uniforms, soldier uniforms and civilian utility issue. Older costumes include smocks worn by farmworkers from Northamptonshire which are identifiable by their unique stitching.
Special occasion costumes
Leisure life is reflected in carnival costumes, masons' accessories and special occasion dresses, such as ball gowns and theatrical costumes bought and worn locally.
Nightwear
Nightwear comprises of night shirts, night dresses and dressing gowns.
Accessories
A significant part of the costume collection consists of accessories including scarves, ties, collars, hats and jewellery.
Textiles
Everyday textiles such as tablecloths, cushions, bed covers and quilts, along with printed and woven fabric and embroidery samples provide a glimpse into Northampton life.
How the collection started
The collection was founded and developed from the 1950s onwards and was driven by a curatorial interest in collecting examples of costume from the period 1830-1900. From the 1980s there was a strong focus on collecting clothing sold or worn in Northampton.
Where to see the costume collection
Individual objects from the collection are displayed in various permanent and temporary galleries and exhibitions. We also provide events and study days.
Costume collections are also included in our online resources.
Online resources Northampton Museum and Art Gallery
Online resources Abington Park Museum
Research or enquire about the costume collection
We welcome access to the collection through research visits, viewings and correspondence.